Consumer sentiments fell by 1.5 percent in August 2023. Its growth was a weak 0.2 percent in July. This weakening of growth and then the fall in sentiments comes after a period of sustained growth. Consumer sentiments have been rising in every month since January 2023. The average monthly growth in consumer sentiments in India during the January-July months of 2023 was 2.6 percent. The fall in sentiments in August is therefore disappointing, particularly as it comes on the eve of India's festive season. Kerala celebrated Onam in late August. Maharashtra and much of western India celebrated the Ganesh festival in the second half of September. October will celebrate Navratri and then there is Diwali in November.
The weakness in consumer sentiments at the beginning of the festive times can be particularly disconcerting for some enterprises. This is so because the fall in the consumer sentiments index incorporates a big fall in one of its constituents, which is consumers' intention to buy consumer durables. Between March and July 2023, around 25 percent of the respondents said that it was a better time to buy consumer durables than it was a year ago. And, around the same number had said that it was a worse time. In August 2023, the proportion of respondents who said it was a better time to buy consumer durables dropped quite sharply to 21 percent and those who said it was a worse time rose a bit to 27 percent. These movements do not augur well.
Households usually spend more on non-essentials including consumer durables around the festival season. And, the decision to spend on non-essentials depends substantially on consumer sentiments besides it hinging on changes in incomes. Therefore, this reversal of the rising trend of consumer sentiments is quite disappointing. It, in fact, could be triggered by some worries on the income front.
Household incomes seem to be facing headwinds. The proportion of households who said that their incomes were higher than a year ago was rising steadily and steeply between December 2022 when it was 17.4 percent and April 2023 when it had risen to 30.2 percent. Then, the growth in this proportion stalled at around 30 percent for five months till August 2023. Such stagnation has not been seen any time earlier in the past two years, which is the post-pandemic recovery period.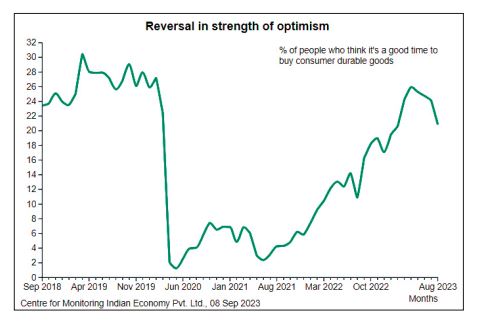 Before the Covid pandemic, between 32 and 36 percent of the respondents said that their incomes were higher than they were a year ago. Were it not for the recent stagnation, the pre-Covid levels would have been reached by August 2023. But, the sudden stagnation has blighted those prospects. The stagnation in optimism of perceived incomes could have contributed to the fall in optimism regarding the purchase of consumer durables. It could also be influenced by a small fall in optimism and a rise in pessimism regarding future incomes. Household perceptions regarding their future income is turning somewhat negative.
The proportion of households that said that they expected their household income to rise a year into the future fell from 25.6 percent in July 2023 to 23.7 percent in August; this is the lowest proportion since March 2023. Further, the proportion that said that they expected their incomes to fall a year later rose from 15.3 percent to 17.7 percent, which is also the highest in the last three months.
The sustained stagnation in perceptions that households have regarding their current incomes in the face of high inflation and interest rates and the simultaneous increase in pessimism regarding their future earnings is likely to have contributed to the apparent reticence in willingness to spend on non-essentials.
Inflation is expected to step down a bit in September but will continue to remain elevated. Interest rates are also expected to remain elevated. The spike in employment in August did not help improve sentiments indicating that much of it could have been distressed jobs under the MGNREGA scheme or other similar jobs in the gig economy in urban areas. If this is true then it is unlikely that sentiments would recover in September 2023.
The index of consumer sentiments was weak in the week ended September 3, 2023.
A year ago, in August 2022, consumer sentiments had fallen by 0.5 percent. Then, it bounced back by a robust 7.1 percent increase in September followed by a 6.1 increase in October 2022. This helped provide some buoyance to the festive season last year. This August, the consumer sentiment index is nearly 31 percent higher than it was in the previous August. Therefore, compared to a year ago, sentiments are much better. But, the momentum has weakened in the last couple of months.