Five days of net FII purchases in July (upto 20th) have warmed the hearts of investors who have had to endure the relentless selling through the first six months of this calendar by FIIs as they sold more than 2.8 lakh crore worth of Indian equities. Can this be taken as a signal that FIIs have returned? Though it cannot be said that FIIs have started to buy, it is evident that their persistent selling is easing off, rendering a buoyancy to the market, resulting in about a 5% rise in Nifty in the first 20 days of July. So the moot question now is if this can signal more upsides in the coming months. Let us look deeper into these numbers.
FII's average net sales per day, in the first 20 days of July, was just 439 crore rupees, when compared to 2297 crore rupees net sales per day in the first six months of this calendar year. Matter of fact, as much as FII selling receded last week, average equity purchases by DIIs declined to just 563 crore rupees per day on an average in the same period, as opposed to 2118 crore rupees worth of purchases per day on an average in June and 1867 crore rupees purchase per day on an average during the last six months. Prior to this, January recorded the lowest net DII figures this year, with a 1096 crore per day purchases.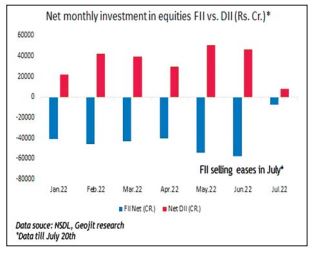 In other words, as much as we may relish the pause or slow down in FII selling, the DII buying has also equally slowed down. So the natural question is whether it is right to expect a rise in indices if the return of FIIs as buyers coincide with the DIIs/retailers becoming net sellers for a period, especially if inflation begins to eat into dispensable or investible income?
Sectoral Cues from FII activity
In the first six months of this CY, FIIs sold the most from IT and Financial sectors, which together contributed 76% of the net sales. Also, less than 25% among the main sectors saw non-negative change during this period. But this changed in the first 15 days of July so just 3 of the main sectors as shown in NSDL site witnessing outflows, with 96% of the net outflows seen from the IT and Oil & Gas sector put together. On the other hand, almost matching this outflow was the inflow into Financial Services, which in fact was one of the two sectors seeing massive selling in the first six months.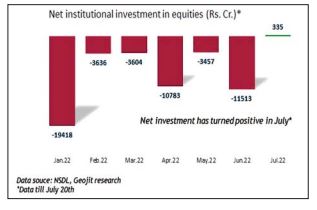 The inflow into Financial Services during the first 15 days of July, contributed 59% of the total inflows during this period, recouping almost 36% of what was lost from the sector during the first six months of the year. Consumer Durables was the next best, contributing 15% to the net inflows during the first 15 days of July. In short, while the daily FII net investment data shows only an inclination towards returning as net buyers, the data as illustrated above is quite revealing and tells us that their actions have been very focussed, and have never been a fire sale, and that the first 15 days of July has seen a broad based buying appetite masked by pointed selling in just a handful of sectors.