Such has been the dominance of Royal Enfield that, every time a new bike in the 350cc plus segment releases, the usual rhetoric is whether it is going to be an Enfield killer. Same with the Hyundai Creta amongst compact SUVs. Yet, both have remained segment leaders over serval years. Incidentally, this was the same feeling invoked by re-introduction of BSE derivatives in May 2023. Though nobody actually believed that BSE could come anywhere close to NSE, which is the world's largest derivatives exchange in terms of contracts traded, there is no mistaking the fact that BSE has ensured that seasoned traders are taking note. Let us look at what is working for the BSE derivatives and what is not.
Sensex options rules
Only Sensex options have taken off well. Trades are seen in bankex options as well as Sensex futures, but bankex options are at best not illiquid, sensex futures have respectable activity, while sensex options are where the bulk of the interest has gone to, cornering 99.998% of the total contracts traded.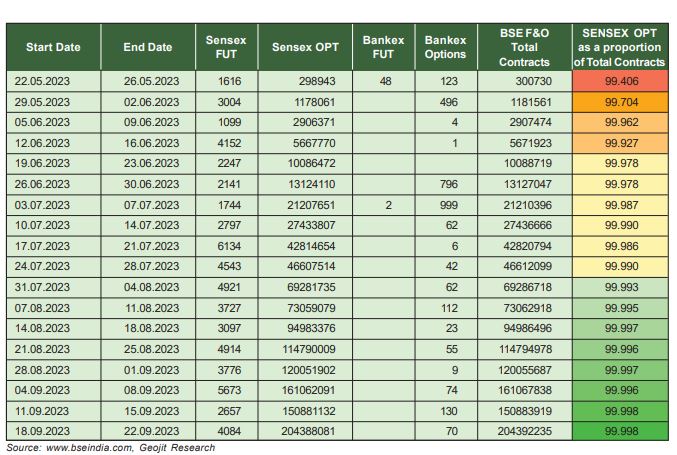 Increasing Activity in Sensex Options
If one doubts if activity in Sensex Options is sustainable or not, a look at the volume and open interest since the last week of May 2023 will help. Both volume and OI have not only risen, but the rising trend has persisted.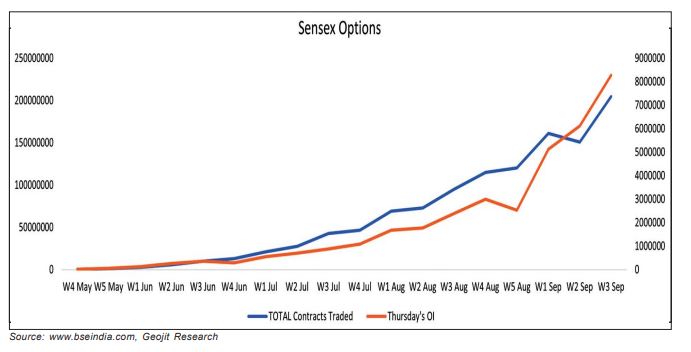 Is it liquid enough?
For a trader, high weekly volumes or OI will not amount anything, if there is enough activity through the days, to facilitate tension-free exit without the risk of contracts becoming illiquid. For now, Friday, which is the expiry day, is where 95% of the trades of the week are concentrated. The bulk of the rest of the trades are seen on Thursdays, with Monday seen as the least active day of the week.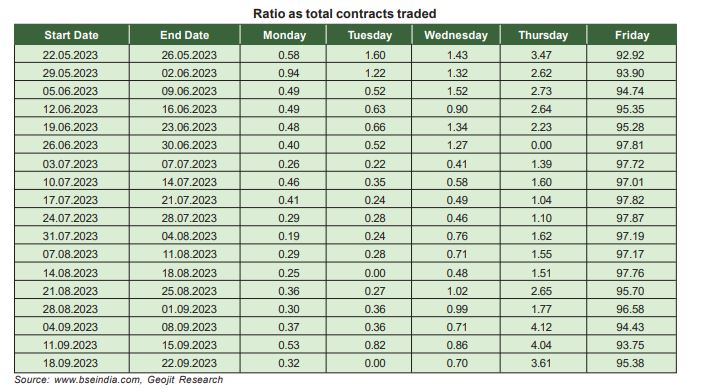 Traders' sweet spot on Friday
If Friday is intensely volatile, as indicated by the volumes, Thursdays, at around 70%, hold the highest number of open contracts as positions build through the week. The low lot size of 10 (In comparison, Nifty's lot size is 50, while banknifty 's lot size is 15), also supports volatility, but around 10% addition in positions is seen on Mondays through Wednesdays, suggesting that Sensex is not just a one trick pony for Friday jobbers, but positioning for direction trades also happen.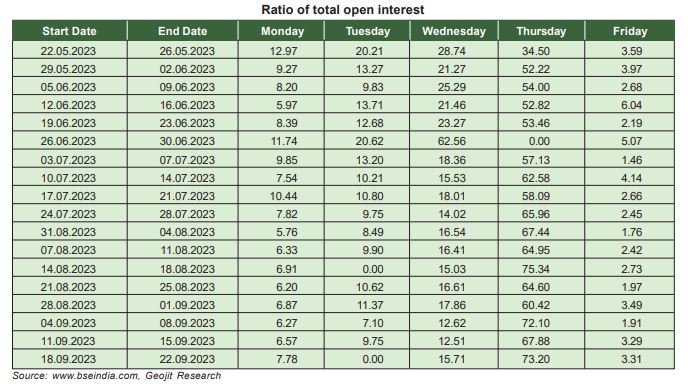 Will the growth continue?
BSE's Managing Director & CEO Sundaraman Ramaurthy said "We started with around eight members being fully ready out of the total 28 members participating. In 16 weeks, as you rightly pointed out, the product has grown much far, exceeding our own expectations. In the last couple of weeks, if you look at it, we are doing around 100 lakh crore as notional turnover. Around 300 members have already been in. When we started, only two software providers were supporting us and today around 13 software providers are supporting at the front-end number." Industry participants are watching the developments with genuine interest, as it augurs well for the industry to avoid concentration risk.