I recently retired from a private company, and I now have Rs. 12 lakhs to invest. Can you please suggest an investment plan so that I can get a monthly pension from this investment? I  am expecting a minimum return of 10%. – Ramakrishnan, Coimbatore
If you are looking for fund categories with equity exposure, where your expected returns are possible, then you can consider investing in Conservative Hybrid which is more suited or Equity Savings funds. But please remember, the funds are subject to some amount of volatility as they carry equity exposure.
Below are Conservative Hybrid Funds with Geojit Rating: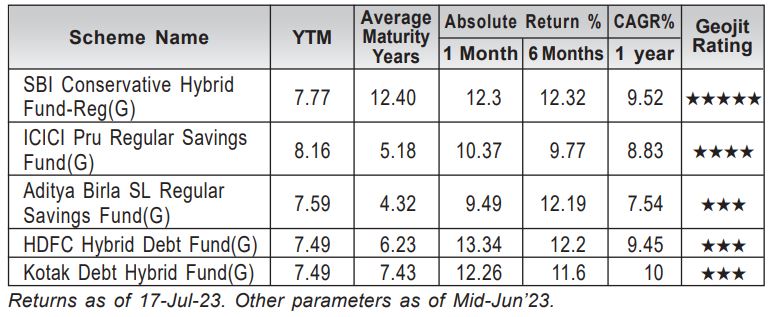 Returns as of 17-Jul-23. Other parameters as of Mid-Jun'23.
If you don't want equity exposure, then you can look at fixed income funds, with moderate returns. 

I am a shop owner and because of the nature of my business I can invest big amount for a few days. So,  I want to  invest in liquid funds. Is it a good decision? What are the advantages and disadvantages of these funds. Which are the best  funds in this category?
– Mathew Joseph, Bengaluru
Liquid funds are ideal for parking surplus cash for the short term, and it comes with very low risk. The advantage of parking in liquid funds is that it normally gives higher returns than savings bank account. However few points to note would be, the investments are subject to market risks and the funds when redeemed would be credited to the bank account by the next business day.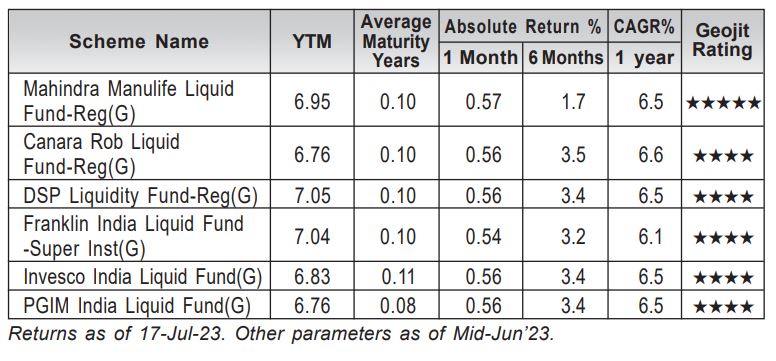 CAGR as of 17-Jul-23. $ – Restriction in investment limits, if any, shall be verified before investing.
My son is a green card holder in US. Can he invest in the Indian stock market – equity funds ? Will there be any repatriable issue? – G Krishna Reddy, Telangana
A green card holder in US can invest in Indian Stock Market either through his NRE Trading A/c or through his NRO Trading A/c & Demat A/c. Funds invested through his NRE A/c Trading and Demat A/c are fully repatriable. Please note, in the case mutual funds, only selected fund houses are accepting investment from US based NRIs.

I am a government employee. Can I invest in share market? Can I do swing trading and other trading methods?  – Naveen Singh, Delhi
Government employees are allowed to invest in shares, with certain disclosure and conditions as given in the service rules, but speculation / day trading is not allowed. Accordingly, all government employees need to send an intimation if total transactions in shares, securities, debentures, mutual funds scheme exceeds six months' basic pay during the calendar year.
With regard to swing trading, since it is considered to be speculative in nature, going by the service rules in general, it may not be permitted . For more specific information, we suggest you refer to the service rules as applicable to you.