Proposals to set up new investment projects in India spiked to Rs.12 trillion in the quarter ended March 2023. This is the highest new investment proposals recorded in any quarter to date. It is nearly twice the average new investment proposals recorded in the preceding four quarters and 36 percent higher than the previous peak of Rs.9 trillion in the quarter of March 2022.
The March 2023 spike in new investment proposals can be attributed to one large announcement by the Tata Group carrier, Air India. Air India announced the purchase of 250 Airbus and 220 Boeing aircraft during this quarter. The Airbus order is valued at Rs.3.8 trillion and the Boeing order is worth USD 34 billion or Rs.2.8 trillion. The Air India order for aircraft therefore adds up to Rs.6.6 trillion which is more than half the Rs.12 trillion of new investment proposals in the March 2023 quarter.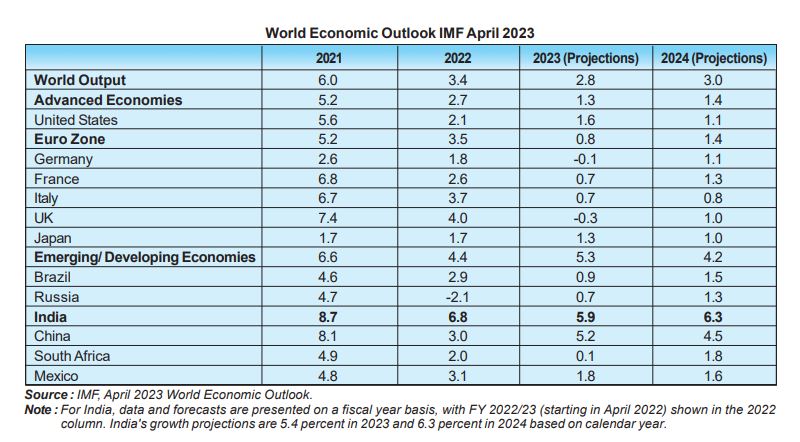 The power sector continued to be a major contributor to new investment proposals. New power projects worth Rs.2 trillion were announced during the March 2023 quarter. The largest projects among these were announced during the Global Investors Summits held in January and March 2023 Madhya Pradesh and Andhra Pradesh, respectively. The top three power projects announced during these summits were by Reliance Industries, Avaada group and Adani Power.
Reliance Industries plans to invest Rs.650 billion to set up a 10 Giga watt solar energy project in Andhra Pradesh. Avaada group plans to invest Rs.500 billion to set up 5 Giga watt of solar, wind and pumped storage hydropower in coastal and Rayalaseema regions of Andhra Pradesh. And Adani Power envisages an investment of Rs.150 billion in a pumped storage hydropower project in Madhya Pradesh. These three projects account for Rs.1.3 trillion or two-thirds of the new investments in the power sector.
43 new power projects were identified in the March 2023 quarter. Of these costs were available for only 34 projects. As costs for the remaining become available eventually, the proposed investment in the power sector will get corrected upwards. Renewable energy dominates investments in the power sector. Of the 45 new power projects, 30 were in renewable energy. These accounted for Rs.1.5 trillion or 75 percent of the total Rs.2 trillion investments envisaged in the power sector.
Associated with the investments in renewable energy is the investment into green hydrogen projects. These are classified as chemicals projects but are energy projects by their final application. Nine green hydrogen and green ammonia projects were announced during the March 2023 quarter. Costs were available for six of these. The total investment envisaged in these six was Rs.1.28 trillion.
Another industry linked to power generation which saw a lot of new investment projects in the March 2023 quarter was grain-based ethanol and co-generation power plants. The quarter saw 49 such investment proposals. These collectively envisaged an investment of Rs.93.6 billion.
New investment proposals linked to the energy sector therefore add up to a substantial Rs.4 trillion in the March 2023 quarter. Most of this is in renewable energy forms. Ironically, the biggest investment of the quarter aviation, which is an intensive energy consumer, would not find any of this useful. It would fly on the highly polluting aviation turbine fuel sourced from non-renewable fossil fuels.
The privatisation of Air India by the government enabled the large investment into the airline. Similarly, initiatives by the RBI and the government seem to be directing investments into data centres. The RBI requires payment system providers in India to store their data in servers located in India and policy makers seem to be nudging that local data should be stored locally. This prod seems to be working. In the March 2023 quarter, CMIE's CapEx database noted 15 new projects to set up data centres in India. The total investment in these projects adds up to Rs.641 billion. This is a nearly sixfold increase in investment in this industry compared to the past trends. CMIE's CapEx database shows that as of March 2023 there were 149 data centre projects that collectively sought to invest Rs.2.2 trillion in such capacities.
Japan's Nippon Telegraph and Telephone (NTT) signed an agreement with the Maharashtra government at the World Economic Forum (WEF), Davos, to set up data centres in Mumbai, Thane, Pune, and Nagpur at a cost of Rs.204.1 billion. Microsoft Corporation plans to set up three data centres in Telangana at an investment of Rs.160 billion.
Interestingly, nine of the 15 data centre projects are being set up by foreign entities in India. Two are by large Indian conglomerates the Tata and the Adani groups.
The state government of Rajasthan announced plans to set up 25 educational institutions in the state. This includes a large number of Sanskrit colleges and ITIs and also an aviation university. Educational projects were announced by the state governments of Gujarat, Haryana, Himachal Pradesh, Karnataka and Uttar Pradesh as well. None of these provided costs. The largest project in the educational sector in terms of cost is the Rs.15 billion Greater Mumbai BITS Law School by Birla Institute of Technology and Science. The total number of educational projects during the quarter was 39.
The health sector saw 41 new projects being proposed. These again were largely by state governments largely by Karnataka and Rajasthan. But, again, costs were not available.
The extraordinarily large new investments proposed in the quarter ended March 2023 are concentrated in aviation and energy. The large investment in aircraft is likely based on strong expectations on the future because civil air traffic, particularly international traffic, is still lower than the pre-pandemic levels.
Click here to read more articles by the author
The author is MD and CEO of Centre for Monitoring Indian Economy Pvt. Ltd