The merit of a budget is often weighed on the basis of how effectively the government achieves the balance between fiscal prudence and growth. Market's response goes beyond that though, at least on the day and on the days soon after the announcements, as positions are unwound or freshly built on the basis of how far the expectations have been met. This time around, the expectations leaned towards high capex and rural spending along with support for small and medium-sized enterprises (SMEs). Historically, this has been the go-to approach in the final full year budget before general elections. Meanwhile, given the fact that India is running one of the highest public debt to GDP ratios, fiscal prudence assumes high importance among the expectations. With these in perspective, let us look at the last few years' price performance prior to as well as post budget announcement, so as to build inferences on what to expect in February.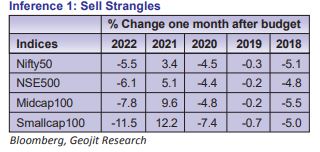 Data from the last five years suggest that in four out of five years, the average price move in Nifty was 4.6%. Since there have not been any runaway rallies, short strangles with strikes at least 5% away from 31st January spot price look promising. For the uninitiated, short strangle is an options strategy where you sell an out of the money put as well as an out of the money call option, with the expectation that the spot price will not rise or fall beyond a particular range. This strategy is usually beneficial when you do not have a clear view of the direction.
Last full year budget before general elections performs usually uniquely, because of difference in expectations. The most recent such instances in the last 20 years suggest that markets ended on a negative note if they recorded a gain in the previous month. The one instance where previous month return was negative, which was in 2013, the budget month recorded a near zero gain, with a 3 month return of 7.3%. With markets in red (till the second last week of January, before this article went for publishing), this February stands a higher chance for a positive monthly return.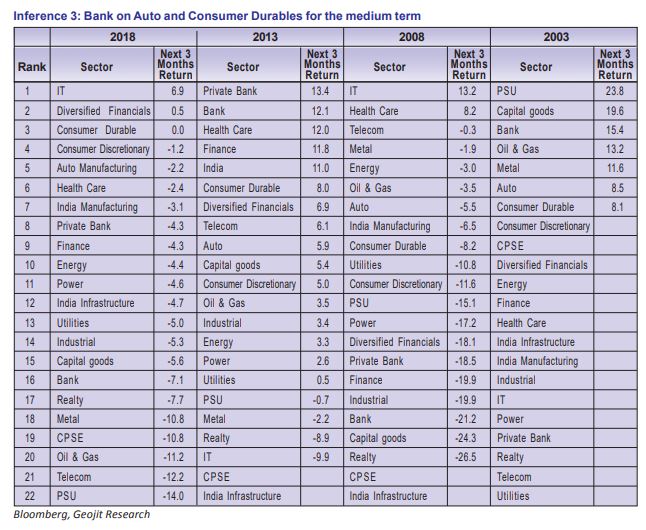 Irrespective of where Nifty heads in the first month after budget, and irrespective how the sectors performed during this period, auto and consumer durables have largely outperformed in the three-month period.