Natural gas markets in Europe and around the world are still in crisis as Russia reduced gas supplies flowing through major pipelines. Although Europe has enough natural gas stored for winter, it now faces a much tougher task which is to rebuild gas stocks for next year. In the case of gas, the infrastructure for supply, transit, and storage varies compared to other energy commodities. Currently, Europe's pipeline infrastructure is set up to import Russian gas, so the alternative supplies, primarily in the form of Liquefied Natural Gas (LNG), will have to travel by sea. The US has been a major LNG supplier to Europe after the Russia – Ukraine conflict started. An explosion in the US Freeport LNG liquefaction facility disrupted consistent deliveries to Europe, while the continent's lack of storage and regasification facilities impeded its LNG imports. Europe's total gas storage capacity is less than the overall annual gas imports from Russia and the storage capacity is unevenly distributed all over the continent.
Therefore, the challenge for Europe this year will be the constraints due to the uneven distribution of storage facilities throughout the continent and the necessity to expand LNG storage terminals. The International Energy Agency (IEA) said that, if the pipeline imports from Russia to the European Union cease in 2023 and the Chinese LNG demand increases to levels seen in 2021, the European Union will face a significant supply-demand mismatch.
The EU will also need to make sure gas storage levels stay high to give Member States time to prepare for a sudden suspension of gas supplies and to assure supply security.
In order to transport by ships, natural gas must be cooled to below -160 degree Celsius to its liquid state i.e. LNG. And LNG can be imported from many countries, giving it a significant advantage over pipeline-gas as it offers wider supply sources. But since pipeline infrastructure is uncommon in Asia and LNG is the standard, Europe would be in direct competition with those countries, making LNG supplies more expensive. In addition to that, LNG necessitates the installation of specific import capacity so the gas can be received and regasified before entering the pipeline network. Presently, the EU-27 can import and regasify 158 billion cubic metres of LNG annually, with more than 100 billion cubic metres of additional LNG projects either planned or are under construction.
The distribution of LNG capacity within the EU is uneven. Even major Member States like Germany currently lack the capacity to import LNG. The majority of the EU's LNG capacity, or about 37% (60 bcm), is in Spain, which only has a few pipeline links to France and the rest of Europe. As the import of LNG raises, questions on how to increase pipeline transmission capacity have also been raised.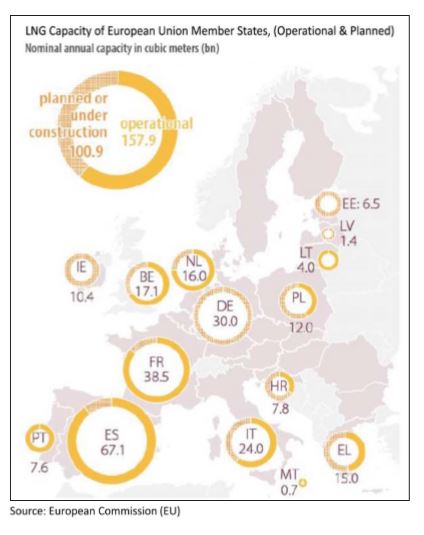 The total EU gas storage capacity is 1110.7 TWh, or 113.7 billion cubic metres, according to the European Commission, which is less than the total annual gas imports from Russia. The EU's storage capacity is not evenly distributed; five countries—Germany, Italy, France, the Netherlands, and Austria—account for nearly three-quarters of the total, while about one-third of the smaller EU Member States have no storage capacity of their own, though some have agreements to access gas stored in nearby countries. According to a 2017 external study conducted for the European Commission, Member States' regulatory frameworks for gas storage varied greatly, and only a small number of them had mandatory storage requirements.
Europe has sufficient natural gas storage for this winter. By mid-October 2022, the European Union's gas storage volume reached around 1023 terawatt hours (TWh), or about 92 percent of its total capacity, exceeding an earlier goal of having it at 80 percent by 1st November. In October 2019, the EU experienced its highest quarterly gas storage volume in a decade, with approximately 1,074 TWh of supply available. German gas reserves were filled to 95 percent by mid-October, more than two weeks ahead of schedule, marking a significant milestone. The natural gas storage in United Kingdom amounted to some 9.14 terawatts hour (TWh) in October 2022, accounting for nearly 94 percent of its capacity. Compared to other European countries, the storage capacities in the UK are considerably lower.
Total gas quantities delivered by pipeline from Russia to the European Union during the course of 2022 are anticipated to be close to 60 billion cubic metres (bcm), which is significantly lower than the levels observed prior to Russia's invasion of Ukraine. Russian pipeline deliveries are anticipated to be significantly reduced in 2023 and may potentially cease altogether, creating a wider gap in the supply of gas to Europe and the rest of the world.
By the end of 2023, EU is expected to build an additional 40 bcm of LNG import capacity even though only 20 bcm of LNG supplies are anticipated to enter the market this year. In the meantime, the extremely low levels of Chinese import demand witnessed in 2022 may recover, increasing competition for LNG cargoes. Because of subdued import demand from China, Europe was able to import larger quantities of LNG in 2022.
About 30 bcm of the 57 bcm total supply-demand gap, which may exist in 2023, will be bridged by actions that are currently in motion. Around 30 bcm of the total supply-demand gap of 57 bcm that might materialise in 2023 is expected to be filled by measures that are already clearly in motion. The European Union and various European nations have each adopted several steps to improve supply security. These will facilitate new advancements in energy efficiency, the installation of renewable energy sources, the installation of heat pumps, and other related activities. The increase in nuclear and hydroelectric output from their decade-low levels in 2022 should help alleviate the deficit.
The IEA estimates that the expansion of liquefaction facilities in Africa and the US will mostly be contributing to a 23 bcm rise in global LNG production in 2023. As Europe increases its capacity for regasification, it will be able to import more LNG, but the availability of LNG cargoes to make use of this capacity depends on both increased LNG supply and demand from other importers. Due to a subdued LNG demand from China, Asian LNG imports are expected to have decline by 7% in 2022. However, a revival in economic growth and ending the lockdowns could boost the recovery of China's LNG imports in 2023.