All you need to build and manage your mutual fund portfolio in one place!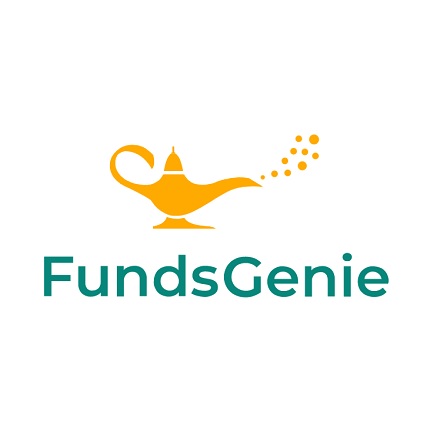 There are over 1000 of mutual funds from leading fund houses covering a range of investment objectives, philosophies, asset classes, and risk exposure. It is no easy task to sift through these to select mutual funds that match your needs. Just why you can choose from the list of mutual fund recommendations by our Investment Advisory Team to help you build a portfolio suited to your needs.
To make investing in your selected funds super easy is FundsGenie. FundsGenie – our mutual fund investment platform caters to a variety of mutual funds investment needs by providing you with a user friendly, clutter-free experience. FundsGenie has tools and resources to help you choose funds that match your objective.
Ram: How is Geojit FundsGenie different from other platforms?
Sam: Some of the distinctive features that make the Geojit FundsGenie different from other platforms are: a) 100% paperless. b) Instant KYC validation using PAN. c) Start investing immediately after completing profile. d) Sell physical MF units brought through any other platform/distributor. e) Advanced 'Robo-Advisory' to suggest most suited mutual funds to your risk appetite.
Ram: How can I view the performance of any particular fund I want to invest in?
Sam: You may use the 'Fund Search' feature (at the top of the screen in Web version and Search Icon in Android app) which allows you to search for any specific fund you are looking for. All-important parameters like return%, AUM, fund rating, exit load, sector allocation etc. areavailable for the selected funds.
Robo-Advisory: Suggests schemes based on user's risk profile, tenure and amount to be invested. Suggested Portfolio can have up to 4 schemes depending upon investment amount.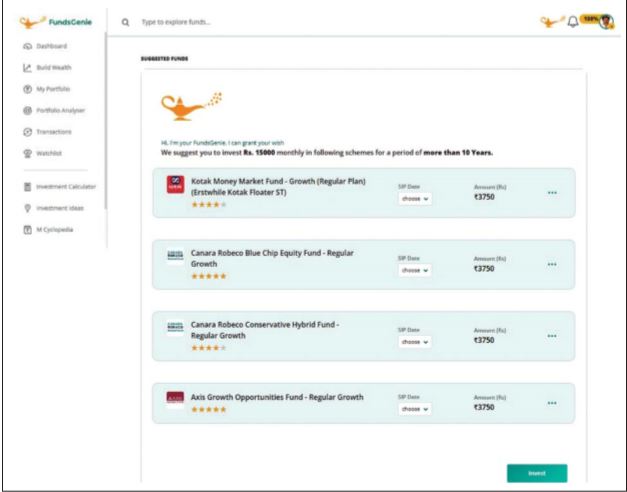 Ram: Is there any way by which I can track my mutual fund investment performance?
Sam: 'My Portfolio' section helps you to track your investments on a regular basis.
Ram: Where can I see the orders which I have placed for the day?
Sam: The order details can be viewed under Right Top Menu –> My Orders. Orders will be shown as "Pending" if the orders were successfully sent to exchange. The processing status will be available in "Transaction" section of FundsGenie if successfully validated by RTA from T+2 business day onwards.
Ram: How can I see all my transactions in mutual funds for a time period?
Sam: The 'Transactions' section will give all the mutual fund transaction details made through Geojit.
Ram: Can I track the performance of a select group of funds?
Sam: You can add the funds to your "Watchlist" and track their performance. The Watchlist option is available in the left menu pane.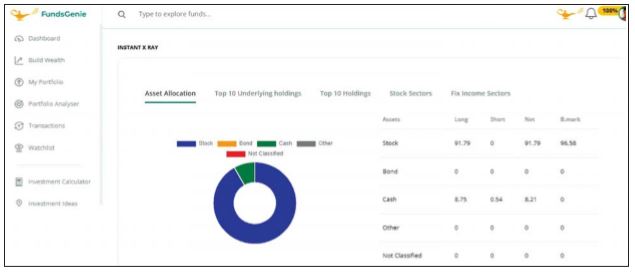 Ram: Where can I find my mutual fund units which I bought through Geojit?
Sam: The 'My Portfolio' section gives the complete details of all your mutual fund investments through Geojit.
Ram: IF I want to save 'TAX', will FundsGenie help me calculate my tax and suggest MF investment options?
Sam: Our 'Tax Calculator' feature under 'Investment Calculator' in web version, calculates your total eligible taxable amount that you can invest in Tax Saving funds. You can explore best Tax Saver MF schemes in "Build Wealth -> Tax Saver card in the top" and invest in them.
Ram: I have started an SIP. How can I know much would I get after 5 years?
Sam: You can use 'SIP calculator' feature to get a clear picture of how much your funds can grow over a period of time. However, mutual fund investments are subject to market risks and returns cannot be guaranteed.
Ram: I have never invested in any mutual funds. How much would have my fund grown if I had invested earlier?
Sam: You can use our 'Wealth Simulator' feature under 'Investment Calculator' section to find how much money you could have made if you had invested earlier.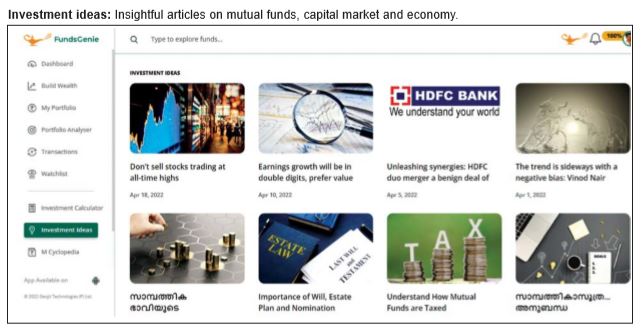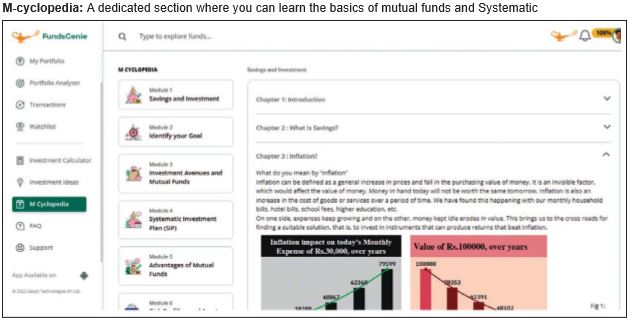 Ram: Where can I learn more about mutual funds?
Sam: There is a dedicated section called 'M-cyclopedia' where you can learn the basics of mutual funds and Systematic Investment Plans.
Ram: In case of any query, how do I reach out to Geojit?
Sam: For all queries, clients can mail to customercare@geojit.com or call us at our helpline numbers 1800-103-5501/1800-425-5501 (toll free) and 0484 4114306 (paid).