India commands a formidable position in the world spice trade and is called the "Spice Bowl of the World" or "Land of Spices". Historically, India has been the center of spice trade and its spices are sought after globally due to their exquisite aroma, texture, taste, and medicinal value. The country produces around 75 of the 109 varieties of spices listed by the International Organization for Standardization (ISO). India is the leading producer of spices like cumin, coriander, cardamom, turmeric, and a major exporter with a lion share of over 70 percent in global spices exports.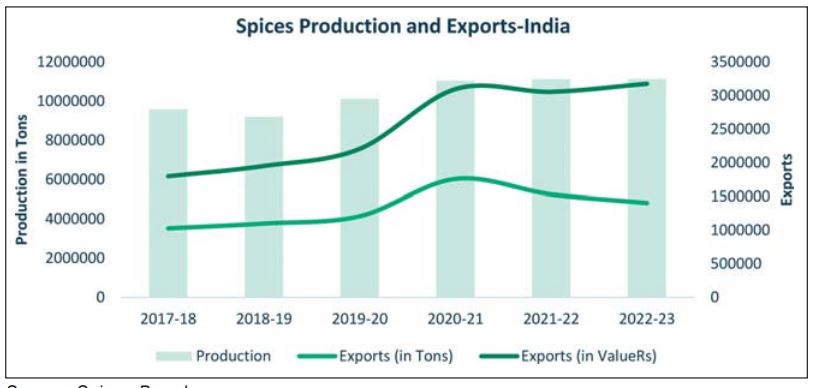 Source: Spices Board
According to the Spices Board estimates, spices production in the country stood at 11.4 million tons and exported USD 3,952.60 million worth spices in the FY 2022-23.
Off late, the prices of many spices are on a rise along with many horticulture crops and several other crops. According to the data from the Ministry of Statistics and Programme Implementation, Government of India, inflation in spices rose to 19.19 percent on year-on-year basis in June 2023.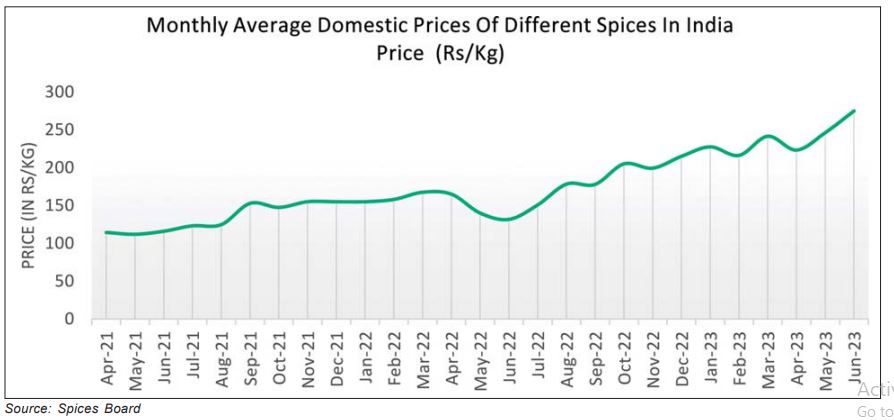 The price of jeera, one of the key spices, has seen a significant increase since the second half of 2021. This spice has breached the Rs 60,000/100-kilogram mark recently in both futures as-well-as the major spot market of Unjha, Gujarat and have posted a year-to-date gain of more than 90 percent on National Commodity and Derivatives Exchange Limited (NCDEX). This price rally has been sustained due to a combination of factors, including tight supply and strong demand. During the last rabi season, because of unfavorable weather conditions and unseasonal rains during the harvesting period the prospects for production were lowered.

Source: Spices Board
Production of jeera has been on a decline for the last two years but in 2022-23 it is expected to rise to by 11.36 percent to 6,27,031 tonnes according to the Spices Board's initial estimate. However, market estimates show otherwise. Traders estimate it to be 8-12 percent lower in FY24 at 6.5 million bags as against the initial estimate of 7.5 million bags (1 bag=50 kilogram). Unfavorable weather in the major jeera growing states of Gujarat and Rajasthan have affected output. According to Federation of Indian Spices Stakeholders forecasts, cumin demand is predicted to exceed 85 lakh bags this year, with a likely supply of 65 lakh bags. In the meantime, export demand especially from China, Bangladesh and UAE has been robust. According to the Spices Board, jeera exports during April-May 2023, rose by 67.90 percent at 42,988.50 tonnes as compared to 25,603.35 tonnes exported during April-May 2022. According to ?? decline in carry-over stocks is aiding the sentiments as well.
Turmeric prices have seen a significant rise, hitting its highest level in over a decade. On NCDEX, the yellow spice has gained more than 60 percent so far this year, crossing Rs 13,000 a kilogram for the first time since 2010. Several factors have contributed to this price surge. Delay in sowing this kharif season and prospects of lower acreage on the back of farmers opting for more remunerative crops triggered an upswing in price.
Furthermore, there are fears of crop damage in regions like Maharashtra and Andhra Pradesh due to unseasonal rainfall, which has further heightened concerns about the availability of quality turmeric crops. Additionally, robust export demand has also played a role in putting upward pressure on prices. India exported 39,418.73 tons of turmeric during April-May 2023, worth USD 42.09 million, up from 30,903.38 tons exported during the same period last year.
Another spice that has shown a significant rise in price is red chilli, which has gained more than 150 percent according to the data from the Spices Board. A decline in production due to pest and disease infestation, and poor crop quality bolstered chilli prices amidst strong domestic and export demand especially from China. Prices of spices like ginger and garlic too have gained considerably. Cardamom and black pepper prices have firmed up as well. In the meantime, coriander prices are hovering near two and a half year lows on NCDEX. The expectation of higher production and tepid demand is weighing on.
Overall, supply-side constraints and weather conditions have pushed the price of spices higher. Also, strong demand, both domestically and internationally, is playing a crucial role in keeping prices elevated.