Natural rubber is considered one of the important strategic raw materials with a wide range of applications in various forms in industries ranging from defence, transportation, healthcare, household etc. India is a major consumer and producer of natural rubber in the world. India is currently the world's sixth largest producer and second largest consumer of natural rubber. According to the Rubber Board of India, natural rubber production in the country for the financial year (FY) 2021-22 stood at 7,75,000 tons, while the consumption accounts 12,38,000 tons during the same time period. Being one the fastest growing economies globally, India's natural rubber consumption is expected to rise further. According to the Rubber Board, India's natural rubber off take is seen rising to 15 lakh tons by 2025-26. However, production of natural rubber in the country is lagging, which is resulting in huge imports.
Natural Rubber Production In India, Consumption and Imports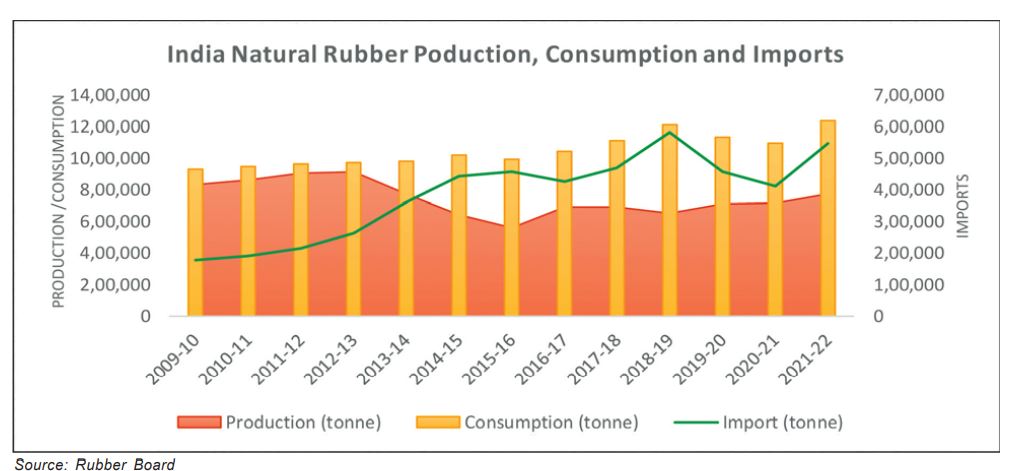 Natural rubber production in the country has been falling short of consumption for long. Considering the figures provided by the Rubber Board, natural rubber consumption exceeded output since 2007-08 and the gap started to widen significantly by FY 2013-14. Natural rubber output peaked during the year 2012-13, when the production stood at 9,13,700 tons and since then it has been on the lower side, ranging between six to eight lakh tons. Lower production of natural rubber is being witnessed in the country despite the fact that area under natural rubber and tappable area is on a rise. In the meantime, natural rubber offtake has been rising mostly steadily resulting in higher imports.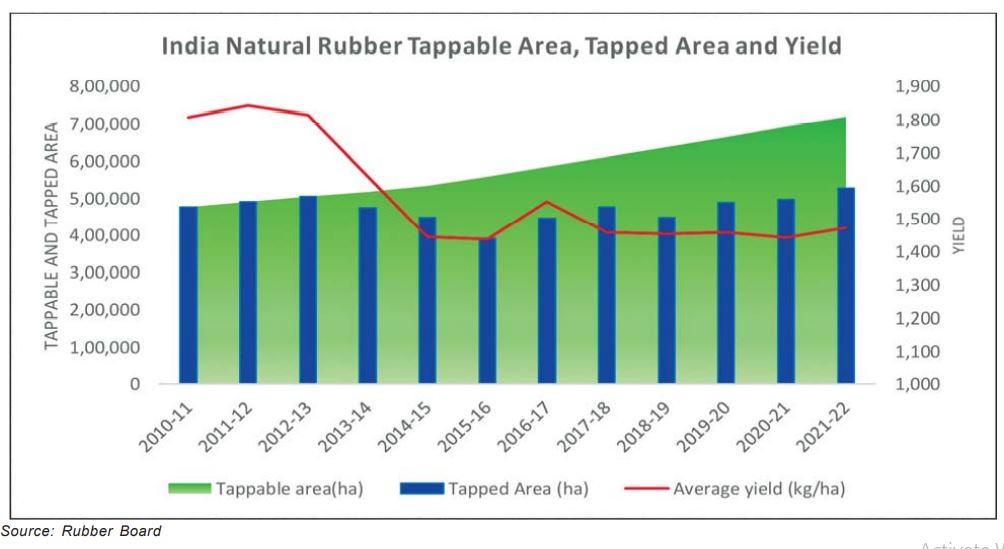 Downtrend in natural rubber prices since 2012, cheaper imports, rising production costs, changing weather and climatic conditions, falling yields, slower pace of planting and replanting etc. are some of the major factors that have caused a contraction in natural rubber output in the country. Since peaking to record highs during 2012-2013 period, natural rubber prices in the domestic as well as in the international market have been trending lower, except for some occasional upticks. Average prices for the RSS4 grade sheet rubber for seven FYs from 2014-15 has been ranging between Rs.11,000-Rs.14,500 per 100kg according to Rubber Board. Though a revival has been witnessed in FY 2021-22 on post-Covid recovery in demand, now again prices have retreated.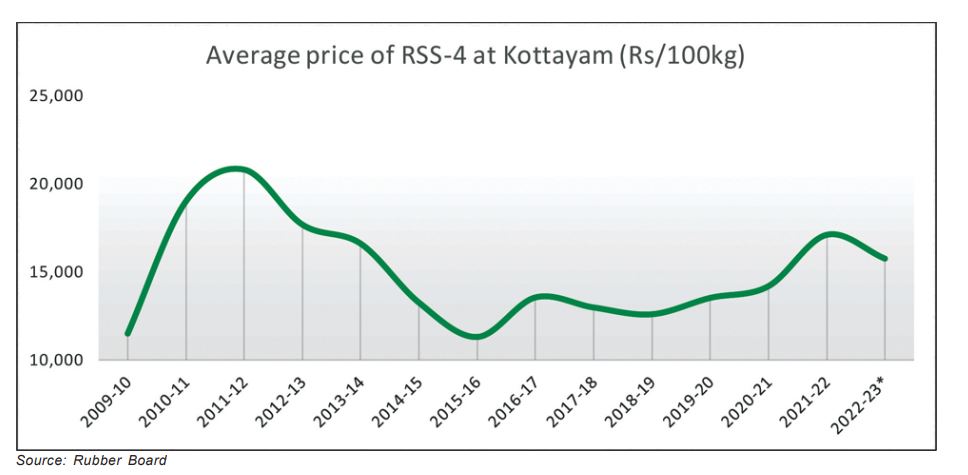 Sustained low prices of natural rubber along with rising production costs affected natural rubber output from the major natural rubber growing state in the country, Kerala. In India, of the total 8,26,660 ha is under rubber cultivation in the country, traditional region i.e., Kerala and some parts of Tamil Nadu, account for 69 percent.
Kerala is the major producer of natural rubber in the country accounting for more than 70 percent of the total output and 66.5 percent of the total area under natural rubber. However, natural rubber production from the state has been mostly stagnant and the contribution of the state in the total natural rubber production too has been diminishing. Apart from the price factor, there are other issues like constraints in expansion of area under rubber, impact of climate change, declining productivity, shift to more remunerative crops in certain key natural rubber growing regions in Kerala etc. is influencing output from the state. Though the Rubber Board and the state government have implemented various schemes and measures to increase the production and productivity in the state like adoption of untapped plantations to restart tapping, price stabilisation scheme etc, it has borne some results but only to a certain extent. The National Rubber Policy was introduced in 2019 with the aim for overall development of the rubber sector and envisages to bring down the imports of natural rubber to 25 percent of total demand by 2030 that is expected to grow to 2.0 million tonnes.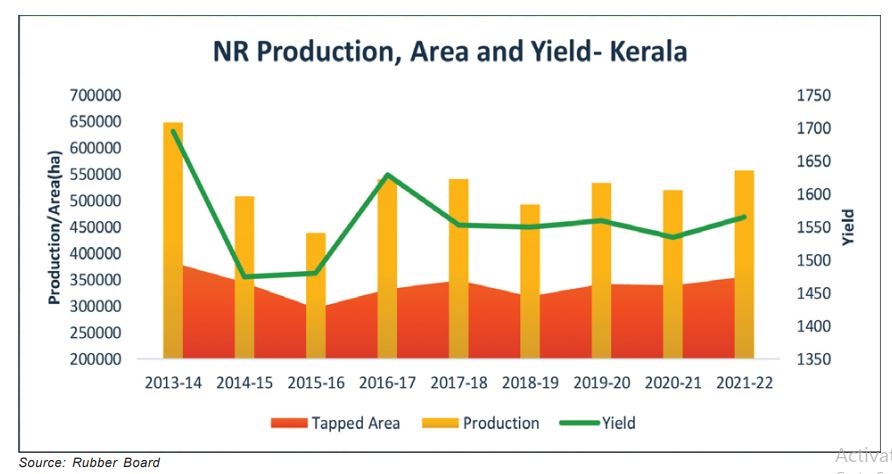 Now, more efforts are being directed towards expansion of rubber cultivation to non-traditional areas, especially in the North-east region of India, which have a conducive weather for growing rubber. Rubber was introduced in the northeast region during the 1960s by the regional forest department with the aim of resettlement of tribals, provide employment and improve their socio-economic conditions. And later during the 1980s, due to favourable agro-climatic condition, Rubber Board too showed increased interest in expansion of rubber cultivation in this region. But it has gained traction in the recent times as it has become necessary to be self-sufficient in natural rubber production and to reduce import. Apart from the favourable climatic condition for rubber cultivation, lower cost of production and increased connectivity to the northeast region through Bharatmala Pariyojana and Pradhan Mantri Gram Sadak Yojana, central government's look east policy etc is also aiding the expansion. In 2021, Rubber Board along with the Automotive Tyre Manufactures Association (ATMA) moved forward with a 1000 crore project NE-MITRA, for development of natural rubber plantation in North-East by two lakh hectares in five years. According to K N Raghavan, Executive Director of the Rubber Board, over 27,000 ha have been covered in the first two years of this project.
Currently, in the non- traditional areas of rubber cultivation- the north-eastern region consisting of Tripura, Assam, Meghalaya, Nagaland, Manipur, Mizoram and Arunachal Pradesh have emerged as the second largest natural rubber producing centre. Among these states, Tripura is the top producer and the second largest natural rubber producer in the country. A steady rise in output is being witnessed in from this region and accounts for over 23 percent of the total output.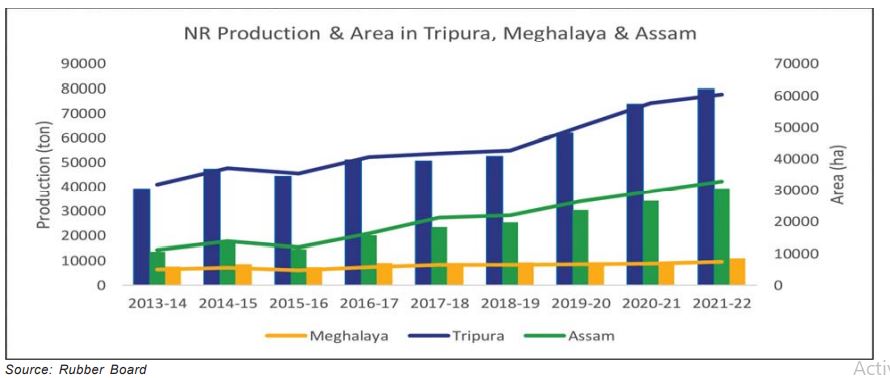 While expansion of rubber in this non-traditional area is being pursued with all vivacity, concerns over environmental impact stay. There are apprehensions over losing native forest to rubber plantation affecting biodiversity and groundwater levels.