By Anu V Pai
Commodity prices are mostly on a rise since the Covid-19 pandemic. Geopolitical unrest and the Ukraine-Russian conflict earlier this year led to yet another round of upswing in several agricultural and energy commodities, with many of them scaling new peaks or hitting multi-year highs. Cotton is one of the agricultural commodities that has shifted to a bullish trajectory.
Cotton prices have been on an ascend since 2020, both in the Indian as well as in the overseas market. In the international market, it has surged to its highest level in more than a decade in May this year before retreating and in the Indian markets, it hit record highs. MCX cotton spot prices rose more than 200 percent from the lows it made during April-May 2020, while NCDEX Kapas spot prices gained over 150 percent. Cotton in the Indian market is heading towards record highs again as a new season is set to begin soon.
Fall in Production
Production of cotton in India is declining. According to the data from the Meeting of Committee on Cotton Production and Consumption (COCPC) held earlier this year, cotton production in India for the year 2021-22 stood at 340.62 lakh bales (1 bale=170kg) compared to 352.48 lakh bales produced in 2020-21. The fourth advance estimates released by the government have revised down the production to 31.20 million bales against the previous estimates of 31.51 million bales. The drop in production is predominantly attributed to unfavourable weather. Heavy rains in some of the key cotton-growing states in the country during October-November period last year led to crop loss and affected quality. Adding on the woes were pink bollworm infestations in key cotton states of Punjab and Haryana. Moreover, lower acreage last season and stagnant yield also impacted production.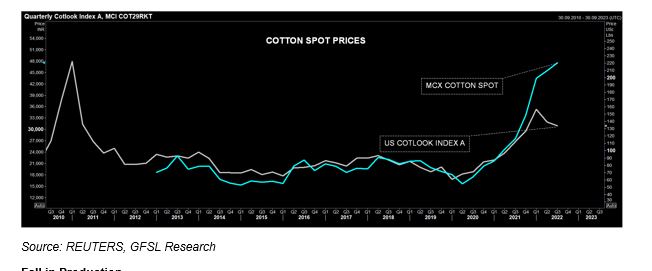 In the ongoing kharif season, according to the data from the farm ministry, as of 11 August, area under cotton cultivation across the country in the 2022-23 (July-June) season was over 12.3 million hectares, up by six percent compared to same period last year. Sowing has been completed in the northern states and the acreage in Haryana, the top producer in north India, fell 5.5% on YoY basis to 650,500 hectares. In Punjab, it fell 2.4% on year to 248,000 hectares. Inadequate power supply for irrigation and non-availability of canal water during the initial sowing stage led to a drop in acreage in the northern states. However, in the top cotton growing states like Gujarat and Maharashtra sowing is on a rise. In Gujarat, acreage rose to 2.5 million hectares, against 2.2 million hectares a year ago. In Maharashtra, the area under the crop increased 7.6% on YoY basis to 4.2 million hectares, while in Telangana, it fell 5.2% to 1.9 million hectares. Lucrative prices are expected to boost the area under cotton cultivation this season unlike previous year, where farmers shifted to other crops such as oilseeds seeking better returns.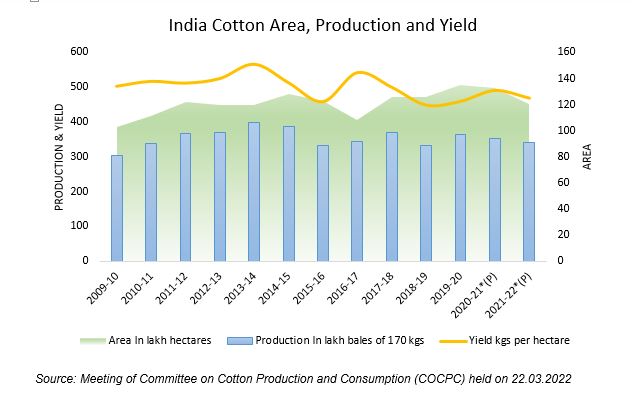 Rise in Consumption
Consumption of cotton in India has been mostly on a rise. According to COCPC, total consumption in the year 2021-22 stood at 345 lakh bales, up three percent on year-on-year basis. Demand from the mill sector stood at 305 lakh bales in 2021-22 compared to 297.45 lakh bales and 233.7 lakh bales in the preceding two years. SSI consumption too rose by seven percent to 24 lakh bales in 2021-22, while non-textile offtake was mostly steady.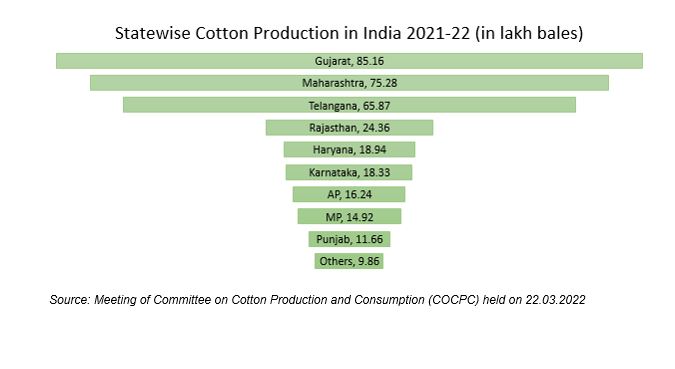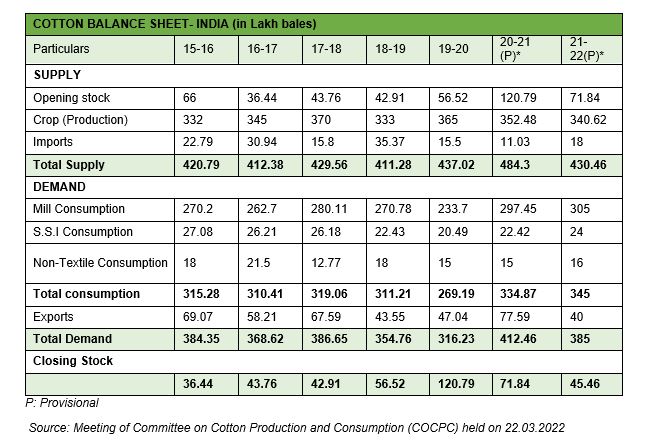 Global Market Trends
The surge in cotton prices in the overseas market earlier this year bolstered domestic cotton prices as well. Fall in production in the US, the third largest producer and top exporter of cotton, and other key suppliers like Brazil amidst rise in demand following opening-up of the economies after the Covid-19 pandemic induced lock-down triggered the uptrend in cotton prices. Supply bottlenecks, rise in fuel costs and fertilizer prices added to the rise in cotton prices. According to the United States Department of Agriculture (USDA) global cotton production in the 2021-22 marketing year (MY) is estimated to be at 115.96 million bales (480 lb bales). USDA in its August report revised down the production estimates by 262,000 bales from the previous estimates. Global use is also revised down by 575,000 bales to 119.79 million bales for the same period, while ending stocks are up over 685,000 bales from the previous July estimates to 84.72 million bales.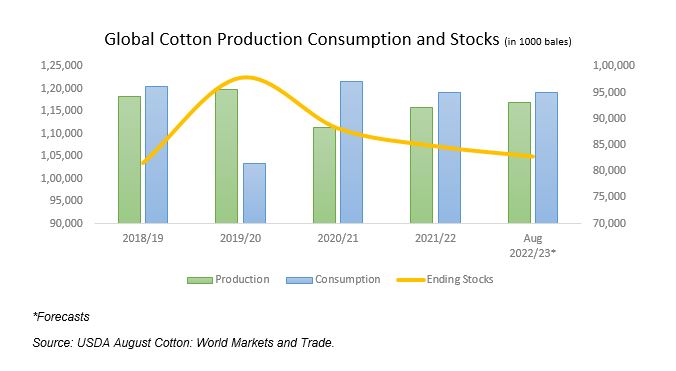 For the 2022-23 MY, global cotton production is down 3.1 million bales to 117.01 million bales predominantly due to fall in output in the Unites States. A 28 percent decline in US cotton output to 12.57 million bales is expected in the MY 2022-23 owing severe draught, especially in Texas. Currently, the USDA expects Texas to abandon 69% of cotton acres. The department also revised down global consumption and ending stocks from its previous estimates to 119.08 million bales and 82.76 million bales, respectively.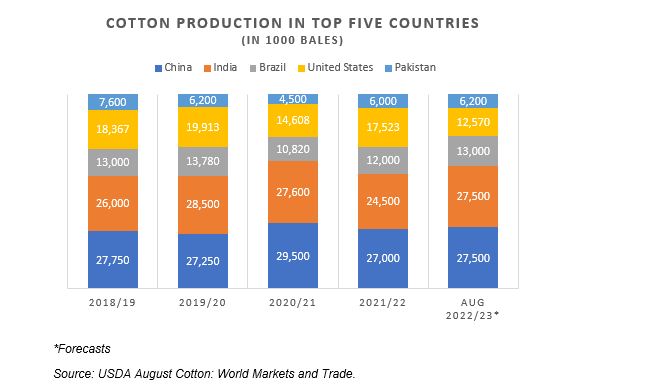 Looking ahead, as the new season is set to begin in October, cotton prices are at elevated levels in the Indian market primarily driven by supply side factors. However, rise in area under cotton and expectation of higher production in 2022-23 kharif season could weigh on. The USDA's August report points towards India emerging as a bright spot in terms of production as output among the top five producers like China, Brazil, Pakistan etc are expected to show only a marginal rise, while that of US is set for a sharp decline. India's cotton production is seen at 27.5 million bales in 2022-23 MY, a rise of 12 per cent on year-on-year basis. Still, weather conditions and instances of pest attacks could impact the production prospects. In the meantime, stock levels, global cotton market dynamics, government interventions along with response to demand at higher prices will influence the overall trend in the market.