by Anu V Pai
Agriculture commodity prices are on a rise since mid2020 and global food prices have surged to their highest level ever. According to the UN Food and Agriculture Organization (FAO), the food price index climbed to its highest-ever level in March 2022 before easing in April. The FAO Food Price Index (FFPI) is a measure of the monthly change in international prices of a basket of food commodities. It consists of the average of five commodity group price indices- Meat, Dairy, Cereals, Vegetable Oil and Sugar, weighted by the average export shares of each of the groups over 2014-2016. The FAO's Food Price Index (FFPI)reached an all-time high of 159.7 in March this year before easing 0.8 percent to 158.5 in April. Earlier, FPPI was seen mostly ranging between 85-105 till the beginning of 2020, after plunging to six-year lows in 2016. The FAO Vegetable Oil Price Index rallied to a record high of 248.6 in March before easing to 237.35 in April this year. The FAO's Cereal Price Index and Meat Price Index too hit record highs in March 2022, while Dairy and Sugar Price indices were at multiyear highs. In the meantime, The World Bank's Agricultural Price Index gained11 percent in the first quarter of 2022 (q/q), reaching an all-time nominal high. The index stands 25 percent higher than a year ago. Apart from the fundamental factors individual to the Agri-commodities, a slew of other factors has transpired in this short span of time, acting upon one another, leading to the surge in global food prices.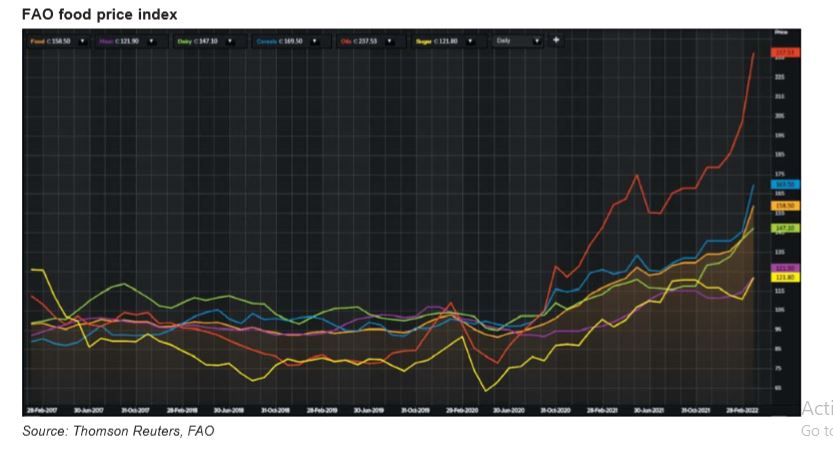 The spread of the Covid-19 pandemic in 2020 was a jolt to the global economy. Imposition of various restrictions and curbs to control the spread of the disease and halting socio-economic activities resulted in a shrinking of global economic growth momentum. However, the agriculture market showed resilience. According to the World Trade Organization, global agriculture trade rebounded in the third and fourth quarters of 2020 following a decline in the second quarter of the year, and it ended the year with an expansion of 3.3 percent on an annual basis. Later, with countries relaxing Covid-19 related curbs and restrictions and with the resumption of economic activities, there was a revival in global economic growth momentum and thereby an upsurge in demand for agriculture commodities. China was one of the key drivers with agriculture imports by the country surging in 2020 and 2021. The rise in industrial and feed demand as well as increasing demand from the biofuel sector is boosting prices.
The covid-19 pandemic brought along a series of supply chain issues as well, impacting the cost of production. Transportation was disrupted during the initial times of the pandemic upsetting movements of commodities. Later, there was a surge in freight rates, shortage of containers, shipment delays etc. Restrictions in the movement of labor added to the hurdles in production and related activities. In the meantime, a spurt in demand for energy following the rebound in economic activities along with the latest geopolitical developments resulted in a sharp rise in crude oil and natural gas prices. Crude oil has been on the rise since May 2020, hitting its highest level since 2008 in March this year, while natural gas began its rally by mid2021 to climb to its highest level in over around 13 years in April this year. The rise in crude oil prices saw increased transportation costs, whereas higher natural gas prices led to a rise in fertilizer prices. Natural gas is one of the main raw materials in the production of nitrogen fertilizer. Production of fertilizers has been affected in Europe and some other countries due to the steep rise in natural gas prices.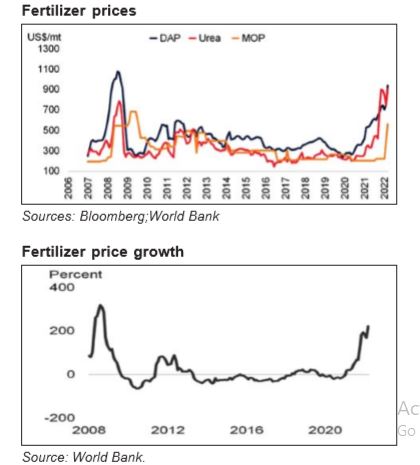 According to the World Bank's Commodity Outlook released in April this year, The World Bank's Fertilizer Price Index rose nearly10 percent in the first quarter of 2022 (q/q) to an all-time high in nominal terms. The increase follows last year's 80 percent surge due to supply disruptions, soaring input costs, and trade restrictions in China and Russia.
Adding to the woes is the ongoing Russia-Ukraine conflict. Russia and Ukraine together hold an important place in the global agriculture market and are exporters of agriculture products. According to the FAO, in the cereal sector, their contribution to global production is especially significant for barley, wheat and maize. Combined, the two countries, on average and respectively, accounted for 19, 14 and 4 percent of the global output of these crops between 2016-17 and 2020-21. In the oilseed complex, their contribution to global production is particularly important for sunflower oil, with just over half of the world output originating, on average, from the two countries during this period. Russia and Ukraine's share of commodity exports war has created disruptions in market for both agriculture output and input with agriculture activities being hindered in Ukraine due to ongoing war and fertilizer exports being affected due to sanctions imposed on Russia and Belarus.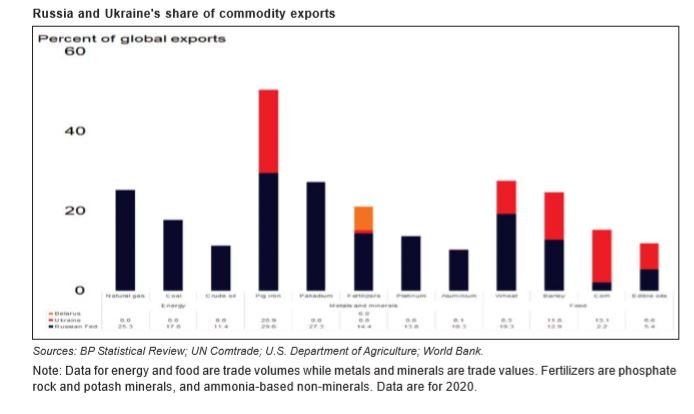 In response to the uncertainties and volatility in prices emerging in the agriculture market due to recent geopolitical unrest and other supply-side constraints, many countries have adopted policies to secure domestic supplies and contain price rises. For instance, India recently banned exports of wheat after the heat waves shriveled crop in the major wheat producing states like Punjab, Haryana, Uttar Pradesh, and Madhya Pradesh, sending global wheat prices higher. Russia had introduced quotas on export and new taxes on wheat in 2021 to tame domestic inflation, and after it declared war on Ukraine additional restrictions were imposed. Argentina, a major exporter of soy oil and meal raised export taxes on in March this year. Indonesia, the top producer of palm oil, had banned exports of crude and refined palm oil April 28. While it is set to lift the ban on May 23, the country is set to impose domestic market sales requirements for palm oil to ensure the supply of cooking oil. Similarly, many countries have relaxed norms and taxes on imports of various agriculture commodities. All such trade barriers are exerting upwards pressure on prices and further constraining supplies. In total, Covid-19 pandemic created supply bottlenecks and ongoing geopolitical turmoil along with agriculture market dynamics have sent prices soaring.