by Krishna Prasad N B, Commodity Research Analyst, Geojit
Natural gas prices across the globe buoyed in 2022 on supply concerns as the global energy crisis continues this year. Tight global supplies and strong demand growth had driven the prices to a 14-year high in the Unites States, while in Europe and Asia, prices tested all-time highs. The demand recovery in the post-pandemic period was merely in proportion with global economic growth. The colder winter in the US and Europe drained a considerable amount of natural gas from storage. Meanwhile, in Asia, increased demand for LNG from power generation as a less carbonising alternative fuel boosted the demand. In 2021, China became the biggest natural gas importer due to increased use of gas in thermal power plants replacing coal. The Russia-Ukraine conflict has taken its toll since late February fuelling concerns about energy supplies across the globe. US natural gas prices topped above USD 8 per million British thermal units (mmBtu) in April 2022, while MCX natural gas futures tested an all-time high by marking above Rs.600 per mmBtu.

The International Energy Agency (IEA) reported that the global consumption of natural gas increased by 4.6% in 2021, more than double the decline was seen in 2020. The strong economic recovery that followed the preceding year's lockdowns and extreme weather events boosted the demand growth. Besides, slower supply growth combined with unexpected outages has led to tight markets and steep price surges also hampered demand growth in the second half of 2021.
Global interest in natural gas continues to grow as it is one of the cleanest and safest energy sources. This commodity plays a vital role in the energy mix due to low carbon emissions with respect to other fossil fuels. The United States remains a key player in the world's production and consumption story. According to Energy Information Administration (EIA) in its recent energy outlook mentioned that the U.S. dry gas production will rise to 97.41 billion cubic feet per day (bcfd) in 2022 and 100.86 bcfd in 2023 from a record output of 93.57 in 2021.
Extreme weather conditions in the U.S. improved heating demand last winter. There was a significant demand growth for heating in residential and commercial spaces and electric power generation during that period. The working natural gas in the underground storage in the Lower 48 states excluding Alaska and Hawaii was totalled 1,387 Bcf as on March 31, which pointed to 17% lower inventories than previous five-year averages.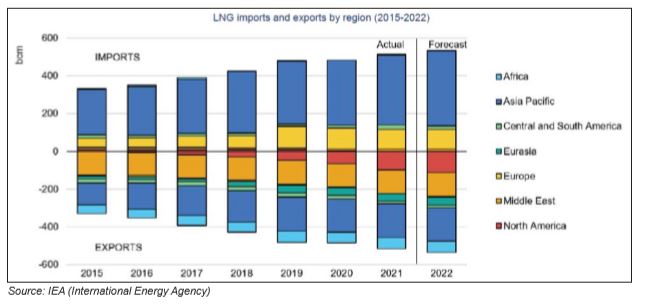 US liquefied natural gas exports ramped up on the ground of the Russian-Ukraine conflict and related sanctions. It was largely reflected in the recent export figures of US as European countries are setting a deadline for cutting gas imports from Russia. According to March statistics, Europe was the top importer of US LNG (buying almost 65% of US LNG exports) followed by Asia and Latin America. China's natural gas imports are expected to reach a total of 185 Bcm.

China started importing LNG in 2006 with substantial growth each year supported by the rapid expansion of LNG import capacity. In 2021, China became the world's largest natural gas importer surpassing Japan, which has been the world's largest LNG importer for 51 years. China's natural gas production and imports have increased rapidly due to the government policies promoting the switch from use of coal-to-natural gas in an effort to reduce air pollution and meet emissions targets. The domestic production reached 19.3 bcfd in 2021, which amounts to 54% of the country's total gas supply, while pipeline and LNG imports combined were at 16.2 bcfd accounting for the remaining 46%. The Chinese government released its 14th Five-Year Plan in March 2022, which set a domestic natural gas production target of 22.3 bcfd by 2025.
Europe was the major casualty of Russia- Ukraine tension as the region heavily depends on Russian gas imports. In 2021, the European Union imported 155 billion cubic meters of gas from Russia, which accounted for almost 45% of the region's gas consumption. Even way before the Ukraine invasion, gas prices were rising higher as Russia drastically reduced gas supplies to the Euro region, and this move depleted European storage levels 17 percent below their five-year average at the beginning of the heating season. The Russian invasion forced the European Union to cut down its dependence on gas as early as possible. Subsequently, IEA came out with a 10point plan in March to reduce the import of Russian gas to Europe by over a third within a year. As there are several sanctions that targeted Russian banks and companies, the region largely ignored Natural gas as their lack of options to compensate Russian gas all of a sudden. The Euro region restricted itself from fresh deals with Russia and as part of that Germany halted the Nord Stream 2 Baltic Sea gas pipeline which was a massive gas project being built at a cost of $11 billion. Currently, most of the Russian gas comes through pipelines crossing Ukraine, Poland and under Baltic Sea. In an attempt to reduce gas supplies from Russia, the EU bloc increased supplies fromthe United States, Qatar and pushed more gas through pipelines from Norway and Algeria. While EU is working on broadening sanctions on Russia to include oil and gas embargoes after the Euro bloc announced a ban on Russian coal as the first step against energy exports.

Impact of higher natural gas prices
Power generation in Asia and Europe largely depends on natural gas and coal. As the prices of both these commodities surged, electricity prices also went up, and this reflected in the cost of manufacturing goods, supply chains and global inflation. Meanwhile, higher power cost forced the smelters to reduce their operation, as a result, there was a significant fall in the output of industrial metals mainly, aluminium and zinc.
The IEA projects the global LNG trade growth to slowdown to 4% in 2022. China's gas imports remain the largest contributor to the import growth, but its growth rate will drop to 9% in 2022 due to the ramp-up of pipeline flows from Russia and the overall slowdown in gas demand growth. In Asia, LNG inflows are set to expand by 27% owing to post-pandemic demand recovery, domestic production declines and planned import capacity additions. Inflows in Europe are also expected to remain higher in 2022 but are likely to be below 2019-2021 levels due to the high restocking needs in the region.